Nickhil Gupta, DO
Interventional Spine & Pain Management
NYC's Top Rated Doctor in Physical Medicine & Rehabilitation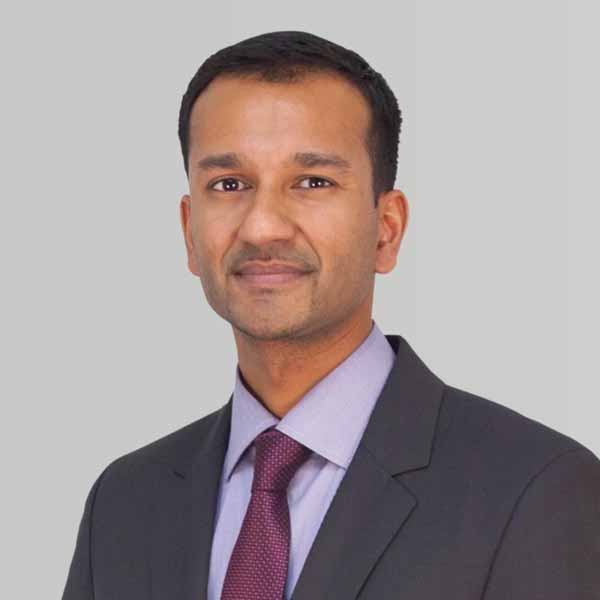 Published in the American Journal of Physical Medicine and Rehabilitation

Member of the Association of Academic Physiatrists
TOP SPINE CARE & INTERVENTIONAL PAIN MANAGEMENT
Nickhil Gupta, DO is a specialist in Physical Medicine and Rehabilitation and Interventional Pain Management. At New York Bone & Joint Specialists, he excels in nonsurgical treatments of musculoskeletal injuries, with a focus on sports injuries in particular. He's much respected by his peers for his commitment to innovative treatments, and his patient relationships are characterized by a compassionate, helpful approach to everything from diagnosis to recovery.
Dr. Gupta is a recognized authority on pain management. He takes a holistic approach to orthopedic care, incorporating medication, physical therapy, steroidal and trigger point injections, and lifestyle adjustments into his treatment plans. With these nonsurgical solutions, he helps patients cope with acute and chronic conditions so that they can continue to enjoy a high quality of life without the complications of surgery.
Dr. Gupta is an Affiliate of the Mt. Sinai Health System, SurgiCare of Manhattan, and the Midtown Surgery Center. A graduate of the New York Institute of Technology and the New York College of Osteopathic Medicine, he completed his Internship at St. Vincent's Hospital in Manhattan before becoming a Resident in Physical Medicine and Rehabilitation at the Rusk Institute for Rehabilitation Medicine at NYU Langone Medical Center.
The author of several peer-reviewed studies, Dr. Gupta is a recognized expert in physical medicine. He's received honors from many distinguished organizations in the field:
Member of the Association of Academic Physiatrists
Member of the American Academy of Physical Medicine and Rehabilitation
Member of the American Medical Association
Member of the American Osteopathic Association
Member of the New York State Society of Physical Medicine and Rehabilitation
Member of the Medical Society of the State of New York
Published in the American Journal of Physical Medicine and Rehabilitation
Included in "Who's Who Among Resident Physicians"
AREAS OF EXPERTISE:
Book an appointment
CREDENTIALS
FACULTY
Affiliated with Beth Israel Medical Center
SurgiCare of Manhattan
Midtown Surgery Center
MEMBERSHIPS
Association of Academic Physiatrists
American Academy of Physical Medicine and Rehabilitation
American Medical Association
American Osteopathic Association
New York State Society of Physical Medicine and Rehabilitation
Medical Society of the State of New York
RESIDENCY: PHYSICAL MEDICINE & REHABILITATION
NYU Langone Medical Center/ Rusk Institute for Rehabilitation Medicine
INTERNSHIP
St. Vincent's Hospital Manhattan
EDUCATION
New York College of Osteopathic Medicine
New York Institute of Technology
AWARDS AND PUBLICATIONS
New York University Langone Medical Center/ Rusk Institute for Rehabilitation Medicine Gupta N., Rashbaum I.; "Bilateral Lower Extremity Amputation Following Compartment Syndrome in the Clinical Setting of Rhabdomyolysis: A Case Report."
Published: American Journal of Physical Medicine and Rehabilitation 2009; 88(3): S21.
Poster presented at Association of Academic Physiatrists Annual Meeting in Colorado Springs, CO
NYU Hospital for Joint Disease/ Rusk Institute for Rehabilitation Medicine at 17th Street Gupta N., Jimenez A., "Outcomes Following Rehabilitation in a Healthy Elderly Gentleman with Sudden Traumatic Bilateral Complete Quadriceps Tendon Rupture: A Case Report."