NEW YORK BONE & JOINT SPECIALISTS
Orthopedic surgeons in NYC. In-network with most insurance plans!
Experts in orthopedics, sports medicine, and rehabilitation.
New York Best Doctors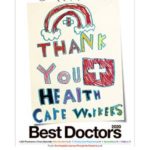 Super Doctors
Castle Connolly Top Doctors
Where is your pain?
New York Bone & Joint Specialists are orthopedic surgeons in NYC. We are proud to be an authority on the treatment of the shoulder, knee, hip, pelvis, back, neck, spine, foot, ankle, elbow, hand & wrist. We specialize in everything from the most conservative treatment, such as physical therapy, to the most complex orthopedic surgery. Our doctors and staff are experts in orthopedic surgery, arthroscopic surgery, sports medicine, and physical medicine & rehabilitation.
Meet Our Team of Orthopedic Surgeons in NYC
Patient Reviews
"I went to Dr. Mizhiritsky for the first time this week and I have to say I was quite impressed with the level of care. Having so many residual injuries from my sports-playing days, I've visited many orthopedic surgeons in NYC, as well as many sports medicine and rehabilitation doctors. None of the experiences I've had even came close to my experience at New York Bone & Joint Specialists. "

Posted by Jack S.

""Surgery is never a light subject and it is very difficult to find a surgeon and a surgical team that treats the patient with respect and comforts them before and after the operation. Dr. Popovitz is one of those rare orthopedic surgeons, and I am so very grateful to him and his team for how they took care of me. "

Posted by Hannah Kozlenko

"From the moment I arrived everyone was very welcoming and attentive. Dr. Tarwala took excellent care of me. He carefully assessed my sprained ankle, kindly answered all of my questions and made sure I knew he was accessible via email or phone if any further questions came up. I highly recommend this organization and Dr. Tarwala to anyone in need of an orthopedic surgeon in NYC."

Posted by Jessica Perilla
Our Locations
130 E 67th St New York, NY 10065

903 Lexington Ave Ste 1C New York, New York 10065

67 W. 55th St. Suite 205, New York, NY 10019